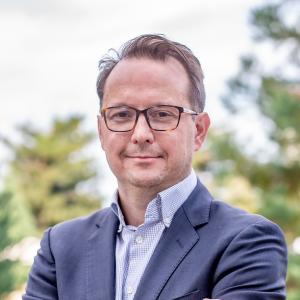 Director
MATT GARRETT is the Director of the Innovation and Partnerships Office at Lawrence Livermore National Laboratory (LLNL). The Innovation and Partnerships Office (IPO) serves as the focal point for LLNL engagement with the private sector. The IPO works with Lab colleagues to advance the development and commercialization of LLNL scientific discoveries with intellectual property protection, support and structures for effective collaborations, entrepreneurship training, and pursuit of business development activities.
Prior to joining LLNL, Matt served as Chief Technology Officer and Director of Technology Transfer and Private Partnerships at SLAC National Accelerator Laboratory, managed and operated by Stanford University. Prior to joining SLAC, Matt served as Commercialization Manager in the Technology Transfer Office at Oak Ridge National Laboratory (ORNL). Matt has also served as deputy director of the Center for Technical Intelligence Studies and Research at the Air Force Institute of Technology (AFIT).
Matt also previously served as a senior scientist/program manager with Nomadics, Inc. While with the company, he participated in the development and manufacturing of handheld and robot-mounted explosives detection platforms, leveraging amplifying fluorescent polymer technology licensed from the Massachusetts Institute of Technology, where he served as a visiting scientist in the Institute for Soldier Nanotechnologies. The detection platform was named one of the US Army's Top 10 Inventions of 2005, which led to its eventual acquisition by ICx Technologies and FLIR Systems.
Matt was honored with the 2020 Department of Energy Technology Transfer Working Group (TTWG) Best-in-Class Award for IP Management, a 2020 UT-Battelle Distinguished Innovation Award, and was part of a team at ORNL that received a 2021 R&D100 Award. Matt was also named a Fellow of the 2022 Oppenheimer Science and Energy Leadership Program (OSELP).
Matt holds an M.S. in Chemistry from The Pennsylvania State University and a B.S. in Chemistry from Florida State University.
Email contact
garrett29@llnl.gov